Join our TikTok challenge and win
3000 euros!
YO! The best dance challenge of the year is here! If dancing is your passion, necessity and relaxation - if dancing is your life and you love challenges, then this is made for you! 🔥
This year we're all dancing! Hip hop, breakdance, jazz ballet or just ballet, swing, polka, chachacha... It doesn't matter. Whatever your thing is, just dance, post a video on TikTok and convince our badass jury that you have what it takes. You've known for a long time that you're winning material anyway. 🚀
How to participate?
Dance your dance

to a song of your choice, can be Sara Jo's song - Tako hodam, or whichever is your style. 👉

Record yourself

and post the video to your TikTok profile.

Remember to add the hashtag


#mtiktokdanceakademija and tag us with @mercatorslovenija. We would ❤️ a follow!

You only have until December 18th ‼️
This is your once-in-a-lifetime opportunity: Join our TikTok challenge and convince the hottest choreographer in the Balkans, Žiga Sotlar, the Balkan superstar Sara Jo and the king of Slovenian TikTok Kuxala.✌️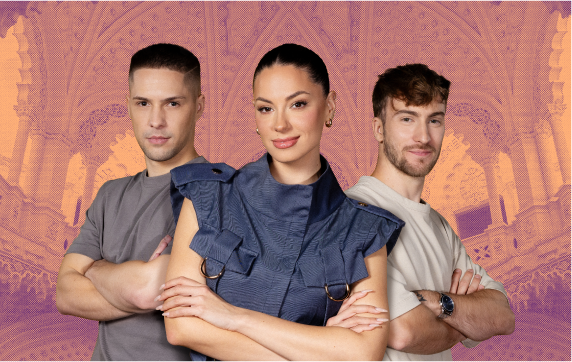 Among all dancers, the jury will select 50 competitors who will qualify. The ones who convince them go on to the semi-finals, then to the finals, and home with 3000 euros. 🤑🔥
Beside the grand prize you can also win 2 x 500 Є for the best TikTok video chosen by Kuxala and best TikTok performance chosen by Sara Jo.
Admit it, this is straight up c.r.a.z.y. You are interested in more. And you are already dancing in your head and can't wait!
YOU CAN WATCH ALL EPISODES OF MTIKTOK DANCE ACADEMY ON MSOSESKA.TV. 🔥
HOW FIRE WAS MTIKTOK DANCE ACADEMY 1?
CHECK IT OUT
By recording a video on the social network TikTok and writing #mtiktokdanceakademija in the description of the video and tagging the profile @mercatorslovenija, the user confirmed that he was aware of and accepted the General Terms of MTikTok Dance Academy activities, which are published in our terms and conditions and consents to the processing of his personal data, which is specified in more detail in the Personal Data Protection Policy in MTikTok Dance Academy activities, located in our privacy policy